Engrained at an early age for automobile styling, Earle F. Moloney began as a self-made Coachbuilder at the young age of 18. His coach building origin began in a two-car garage with the idea that there was a growing market for custom stretched vehicles. He saw a void in the marketplace relating to the comfort and size of the limousines.
His innovative thinking and willingness to invest in his own ideas have made him the success he is today. Moloney Coachbuilders was a coast-to-coast phenomenon when it came to producing a custom limousine. Entering the automotive business in 1967 and establishing his coach building company. By the time Moloney was 37 years, he had already produced more than 14,000 limousines, armored security vehicles and specialty vehicles. In 1985, Moloney's coach building company was the country's largest converter of Cadillac, Lincoln and Mercedes-Benz limousines. His production facility was the hub from which 5 over-the-road Moloney-owned carriers transported Flagships, Grand Flagships, 6-door limousines and the company's armored and custom vehicles.
Moloney Armor Corporation was formed in the eighties to develop the world market for security vehicles of the highest quality and ballistic performance. Earle F. Moloney had already been in this field for many years serving heads of state, ministers and VIPs throughout the world. Now with market conditions and the disappearance of some competitors, the time was right to expand in this area.
Always an innovator, Moloney's companies were the first to create rear-facing jump seats, a 4-door Cadillac convertible, a double cut conversion, and corporate cars. He was also the first to introduce the two-way intercom communication system, as well as the rear seat bar and radio controls.
Innovation has been the driving force to Moloney's passion for automobiles. This driving force preceded the Federal Safety Standards by being the first to "crash test" a Cadillac limousine against a barrier wall at 31mph resulting in 100% satisfaction which equalled the Cadillac engineering standards.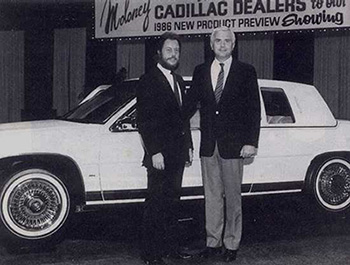 Under the direction of Earle F. Moloney, Moloney Coachbuilders was sold. The company had manufactured more than 14,000 extended wheel base automobiles to uncompromised principles of which many are still incorporated in today's standards for safety and innovation. Other manufacturing companies owned and operated by Earle F. Moloney were Moloney Armor, Federal Manufacturing, Chicago Armor & Limousine and Limousine Werks.
The Moloney manufacturing and innovation legacy continues with the focus and dedication on the new Cadillac XTS-L.