Cadillac has developed the Cadillac Master Coachbuilder (CMC) Program to support the secondary manufacturers who provide consistent, quality products and are committed to customer satisfaction.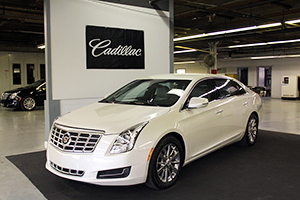 Lehmann-Peterson is a Certified Cadillac Master Coachbuilder. We specialize in modifying the Cadillac XTS chassis which is specifically engineered, designed and built for heavy-duty application and coachbuilder conversions. To achieve this certification Cadillac has verified our state-of-the-art manufacturing facility and processes, ensuring that our enhancements preserve the Cadillac trademark of structural integrity while retaining their original equipment manufacturer (OEM) design. Lehmann-Peterson achieves this by constructing an all-steel frame, stamped steel roof and doors which contain no composites.
The result of our enhancement is the Cadillac XTS-L. This sedan is extended 7" in order to provide a large executive backseat which offers amenities such as executive foot rests, reading lamps, back seat vanity mirrors, rear quarter glass blackout for privacy and more. Beyond providing the extra space required for executive livery, our enhancements maintain all of the safety, performance and luxury that Cadillac is known for throughout the industry.
Furthermore, Lehmann-Peterson offers a 3 year/50,000 mile conversion warranty. With more than five decades of coachbuilding and as a Cadillac Master Coachbuilder (CMC) since 2008, Lehmann-Peterson has over 100 Cadillac XTS-L vehicles currently in service. The integrity of the Cadillac's vehicle, our relationship with Cadillac, and Lehmann-Peterson's quality craftsmanship have made the Cadillac XTS-L a popular choice among livery companies, limousine services and private owners.